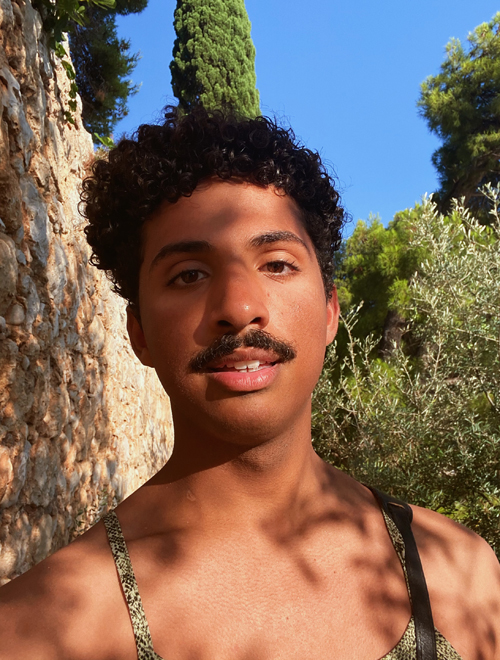 Adam Seid Tahir was born in Lund, Sweden to a Swedish mother and Eritrean father. He trained at the Royal Swedish Ballet School and joined Ballet Junior de Geneve in Switzerland directly after graduating. In the dance company he performed in works by Sharon Eyal, Hofesh Shechter, Emanuel Gat, Alexander Ekman, Thomas Hauert, Olivier Dubois among others. After three years there Adam started freelancing, mostly inside of Europe. As a freelancer he has worked with the choreographers Michael Keegan Dolan, James Finnemore, Noah Hellwig, Louise Mochia, Zoë Poluch, Eleanor Bauer, Paloma Madrid, Pontus Pettersson among others. Adam has also studied computer science, history of ideas, aesthetics and more at Konstfack, Uppsala University and University of Gothenburg.
Adam's work encompasses dancing, performing, choreographing, writing, coding and creating work for physical platforms and cyberspace. hyperskin. (2018) is a film made in collaboration with the Index Foundation. It was screened at Index, Stockholm's dance film festival, the Ecotrash Festival (London) and the Lift-off festival. Culturing the internet
(2019), a webscraping software exhibited at Konstfack. Digital Umbilical (2019), an interconnected dance piece created in collaboration with Body Intelligence Collective. Performed at Sadler's Wells (London), Maison de la Danse Lyon (France) and Theatre de Liege (Belgium). Embrace (2020), a dance piece created together with Meleat Fredriksson and Lydia Östberg Diakité. Performed at Dubrovnik Summer Festival 2020.
Adam is also one of the founders of the collective Body Intelligence. A collective that works interdisciplinarily with dance and technology and won Dansathon 2018. Besides performing and creating artistic work Adam also works as a Web Developer both as a freelancer and at a web agency in Stockholm. He has also contributed to the writing of a book on treating autoimmune illness with food.
Contact: adamseidtahir@gmail.com
---
WHAT DOES THE SITE RESIDENCY ENABLE YOU TO DO?
The residency at SITE enables me to have a geographic location where I can center my working. An anchor for the currents. A place where research, production, reflection and practice can synthesize.
It enables me to take part of other artists' work and workings. And through that learn, discover and develop my practice further.
WHAT ARE YOU WORKING ON RIGHT AT THIS MOMENT?
Currently I'm trying to find ways of healing collectively. I'm in the process of excavation. Digging down and forwards into my ancestral archeology. Speaking with family, digging, reading books, digging, diving into the cracks of the interwebs, digging. Searching for ways of healing that resonate with the history that I carry.
So far I've been working with percussion and water. Water as both a material with many healing properties and a landscape my ancestors have traveled over in hopes of a better future. A landscape that is also filled with trauma.
HOW WOULD YOU LIKE TO FURTHER DEVELOP DURING YOUR RESIDENCY AT SITE?
I hope to continue developing the work I'm doing through meeting the other artists at SITE. Finding more concrete ways to establish my practice choreographically.
I also hope to develop my ability to produce work, specifically in relation to applying for grants, contacting venues etc.
I'd also like to find better ways of speaking and writing about my work. Maybe in a way that conveys it in a more unified manner than it feels while working on it? Haha or maybe I don't want that… Maybe perfecting a 100 story tall elevator pitch? Because fuck elevator pitches in 5 story buildings! Or finding a way to communicate my work in a way that teaches me more about the work? Yeah, something like that…