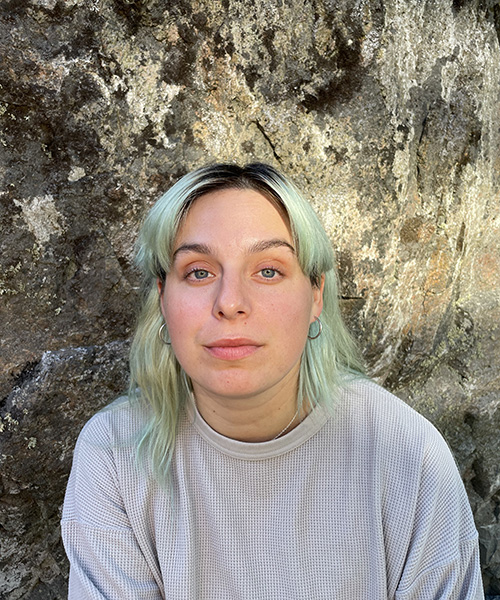 Alica Tserkovnaja (she//they) works in dance, experimental and physical theater, and music. She is interested in popular culture, sexuality, all things minimal and slow, and the dramatic. She has shown her work at Assembly Roxy Theater (Edinburgh), Centre of Contemporary Arts (Glasgow) Turteatern (Stockholm).
WHAT DOES THE SITE RESIDENCY ENABLE YOU TO DO?
The residency gives my work longevity. It enables my artistic practice, collective collaborations, and projects into longer trajectories. Through SITE's support system in organizational and technical support together with the staff, the work develops in structure and form. With my fellow residents, I can share thoughts, challenges, and the mundane. To have a designed space for work, in the shape of an office, is a great way to get things done if that's what's needed. The OPM program is also a way of rebooting and reflecting on one's activities and future plans.
WHAT ARE YOU WORKING ON RIGHT AT THIS MOMENT?
Through a chain letter, me and textile artist and writer Anna Nygren are developing a text as a foundation for a choreographed-theatrical-spectacle: Mermaid&Persefone. The thematics of girlness and erotica, drawing inspiration from fairy tales and myths, about brave princesses and their adventures in magical worlds. Mermaid&Persefone is supported by residencies at Potato Potato Malmö and Hedlandet.

I am further developing the performance piece Lean In together with sound artist Feronia Wennborg. In this project, we weave together embodied knowledge drawing from practices of choreography and sound, to examine the relational, hierarchical, and performative aspects of navigating a shared space. Lean In investigates the boundaries between the present and the imaginative. With attention to embodied breath, sore muscles, and practices of recreation, we are curious to follow impulses, trials, frustrations, and failures as a way to develop material and follow unexpected paths. Lean In is supported by Helge Ax:son Stiftelse, Längmanska Stiftelsen and by residency at DansPlats Skog, Sweden.
HOW WOULD YOU LIKE TO FURTHER DEVELOP DURING YOUR RESIDENCY AT SITE?
I look forward to strengthening all aspects of my work. To continue taking action, asking questions, writing, dancing, sounding – understanding the systems in which art is embedded. I want to continue seeking joy and care, alone and with others, through my practice.