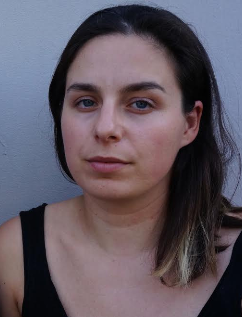 Alica Tserkovnaja is an artist, dancer, musician working interdisciplinary across performance, choreography, voice, text and illustration.
Her somatic practice explores the body's current state through its needs. With an open sense of listening, she follows desires to move or to be moved, vocalizing what is or what is to be found. Through this improvisational practice Alica develops choreographic work as an artist, choreographer and performer. She is interested in how we can recognize normative structures and create opportunities from non-normative experiences and how we can draw from these to an empowering and restful way of being in the material world.
Contact:
alica.tserkovnaja@gmail.com
---
WHAT DOES THE RESIDENCY ENABLE YOU TO DO?
The residency enables my practice into aspects of longevity by planning and organizing. To have a designed space for work is a great way to get things done. The residency is informing and enriching my confidence in being an artist, through the entanglements with other artists. The OPM program is offering a great way of rebooting and reflecting over the greater structure of one's artistic practice.
WHAT ARE YOU WORKING ON RIGHT AT THIS MOMENT?
Project Lean in together with sound artist and composer Feronia Wennborg. We have found ourselves working through presumptions and hierarchies which we come across in the relationship between movement and sound, dance and music. We explore aspects related to agency, consent, performativity, attention, visibility, and audibility. This process has led us to consider questions such as: Can we develop a practice in which movement and sound co-exist in equal relation to each other? What generates an impulse for movement? Where might an open form of listening lead us? The project premieres at Fyllningen in October 2022.

With writer and textile artist Anna Nygren we are writing a manuscript in the form of a chain letter by responding to each other's texts. The manuscript works as the textual foundation for a theatrical play on the thematics of girlness and erotica, drawing inspiration from eastern and western fairy tales about brave princesses and their adventures in magical worlds. The project aims to premiere in 2023.
HOW WOULD YOU LIKE TO FURTHER DEVELOP DURING YOUR RESIDENCY AT SITE?
I want to continue to gather information and decode the systems in which art is embedded – the funding, the opportunities etc. With the other residents I want to share, support, laugh and discuss. Artistically I want to continue seeking new perspectives on how to further create relevancy and openness for participators or audiences in performance art.