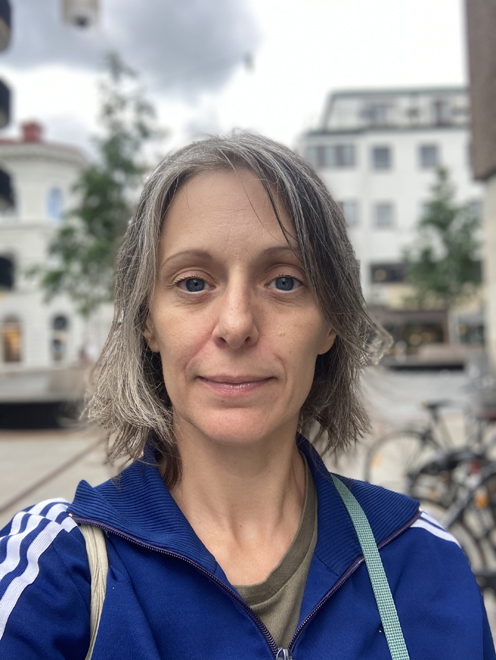 Jannine Rivel freelances within the field of performing arts with movement, dance and choreography. Her pieces have been performed in cities like Berlin, New York and Stockholm, as well as the library in Trosa, the grocery store in Gnesta and the art museum in Eskilstuna. Jannine works cross-disciplinary, with institutions, the "free" culture life, municipality, organisations and regions. She is based in Eskilstuna, Sweden and her work and her co-laborations brings her to other cities and countries as well. Jannine also teaches Klein Technique™ classes and workshops internationally.
She creates her work in relation to location and present in close relationship to differents aspects of process, anatomy, stillness/movement, purpose and content.
Her artistic interest lies within structures, limits and possibilities. An underpinning in all her creative work is the proprioception sense, the intertwining between the senses and how movement moves us, internally and spatially.
"I feel through movement. My experiences moves inside and through me. Emotions and feelings are movements that take different directions and forms. The dance is a necessity for me to be able to process and make sense of the world and myself."
Intertwined figures, Master essay J. Rivel, STDH-18
Recent work includes choreographing and dancing in the pilot of "Koreografiska utflykter" with Amanda Billberg 2020, "verkningar" produced by Scenkonst Sörmland 2019 and as a dancer in Slowathon and Slowotek with Mira Mutka 2018.
Growing up in a circus family she started to re-connect with the clown and the material she learned as a young child in 2015 and since 2019 she is a member of ClownClubben and works as a hospital clown. Jannine works as a visual interpreter within the field of dance since 2011. And also as a producer and project manager for Varia Improvisations Festival (2013-2020), New Opera CO (2013-2015), kompani 2 (2004-2014) and she has self produced here own work since 2002.
Her educations are: The Royal Swedish Ballet School (1996), School of Dance and Circus (BA) (2002), Stockholm Academy of Dramatic Arts (MA) (2018) in Stockholm and Susan Klein School of Movement and Dance (2009), New York.
Contact: hello@janninerivel.com
www.janninerivel.com
---
WHAT DOES THE SITE RESIDENCY ENABLE YOU TO DO?
To physically connect to a dancing space and office with colleagues and support from SITE means that I can move and work within a solid structure. Right now, under this current epidemi I feel that it is even more important to share our thoughts, to let go of what is no longer, and to find and build anew. This is made possible in the set up of being able to meet and perhaps share practise, work in progress, some notes, a coffee and a hello. It also enables me to move more deeply into the processes of structure and creativity since I will be in a continuum for a year.
WHAT ARE YOU WORKING ON RIGHT AT THIS MOMENT?
I am currently developing "Koreografiska utflykter" with the experience we gained from the pilot in June 2020 together with Amanda Billberg. "KU" is a series of dance excursions into the woods with families and pre schools. We are working towards touring in Sweden 2021. I am also taking time to research for my next stage performance through time in the studio with researching practices and methods, reading and writing, finding problems and thoughts. I am also teaching ongoing Klein Technique™ classes online, teaching Ballet and Contemporary in Eskilstuna for youngsters and working as a hospital clown at Mälarsjukhuset.
HOW WOULD YOU LIKE TO FURTHER DEVELOP DURING YOUR RESIDENCY AT SITE?
I would like to find and build solid methods of support and structure to continue to work as a freelancer within the field of performing arts. In relation to the epidemic, in relation to being based outside a major city, for a sustainable inclusive future and as a mother. I would like to work with this in dialogs with my colleagues at SITE.
During this year at SITE I would also like to:
– Find an institution to produce my next stage performance for 4 dancers/actors, on the theme laughter.
– Work as a dancer.
– Teach nationally and internationally if the circumstances are right.
– Work as a rehearsal assistant or dramaturg in different constellations.
– Gain better structure in my applications, writing time and to strengthen my network.