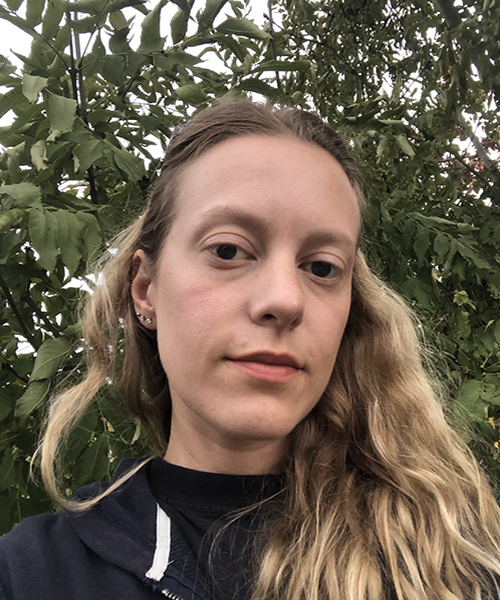 Lisen Pousette (SE) has a BA in dance from ArtEZ, Arnhem (2016), and an MA in Choreography from DOCH (2019). Driven by a fascination in the material and affective dimensions of the voice, she explores voice-body practices through the most subtle to the most extreme vocal forms in her work. In recent years, this investigation has been undertaken in close collaboration with dancer and choreographer Olivia Rivière (DK/ SE), which has materialized in the works Ever losing (2019) and DUNKEL (2022).
Lisen was part of co-initiating and hosting P0$$E dance- and reading circle between 2017 – 2021 – an open-ended study circle for practitioners within contemporary dance and other curious ones – and is organizing the performance evenings Kafé Mix at höjden, Östberga, since spring 2022.
Together with Olivia, she has shown her work in venues such as Les Urbaines (Lausanne), Dansehallerne and Vega (Copenhagen), Inkonst (Malmö), Østre (Bergen), Fylkingen and Weld (Stockholm), and Norberg festival (Norberg).
WHAT DOES THE SITE RESIDENCY ENABLE YOU TO DO?
My hope is that the SITE residency can be a context to ground myself while sharing work, questions, knowledge, and ideas with other artists and peers in the field. For me, it will be a new collegial space and structure to move within.
The year-long time frame of the residency enables me to both zoom in- and out on my work and practice. A kind of anchoring point where work and reflection can merge, both in terms of the artistic and the more production-focused.
WHAT ARE YOU WORKING ON RIGHT AT THIS MOMENT?
I am in the very beginning of creating a solo where I'm choreographically exploring screaming as a vocal practice. The idea is that this can be a work of its own, but it is also part of a project I'm doing together with Olivia Rivière. Coming from very close collaboration, we wanted to create a format where we can work both individually and together since she is based in Copenhagen. We will make two solos that will create a diptych. This is both an artistic and solidaric idea/ interest. How can we support each other's differences and similarities? I will present a first work-in-process at KoncertKirken, Copenhagen, in November 2022. Mine and Olivia's work will premiere in 2023/24 at Weld, Stockholm.
HOW WOULD YOU LIKE TO FURTHER DEVELOP DURING YOUR RESIDENCY AT SITE?
I'm hoping to find spacetime to develop my sense of how to organize myself and projects over longer time structures. Continuing to develop the work I'm doing. Develop the very practical skills of doing projects: writing applications, and applying for funding. Develop my skills of supporting both myself and others professionally. Through meeting the other artists' work and practice, be inspired, learn and continue to unfold my own trajectories.