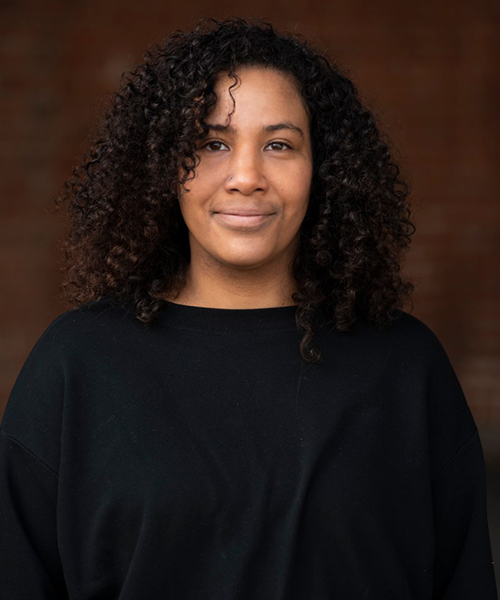 Majula Drammeh studied at the School of Dance and Circus in Stockholm and received her BA from Laban Center London in 2009. Further, she studied MA in museology from Lunds University (2009-2011) and holds a MA in performing arts from Stockholm University of Arts (2021). She works is the field of dance and performance and has performed in works by Poste- Restante (SWE), Myriam Leifkowitz (FRA) Ina Dokmo (SWE), Simone Forti (USA) Roberto N Peyre (SWE) amongst others. She has collaborated within the fields of dance, performance, and visual arts such as; performance duo Blaue Frau (FIN), visual artist Luca Frei (SWE), playwright and dramaturg Maria Reihs (SWE), and musician Martin Holm (SWE)  amongst others.
She has performed in art galleries, city streets, abandoned clubhouses, dark rooms as well as dance and theatre stages. Majula is well invested in immersive and interactive work and teaches interactive methods for performers, dancers, and art students.
 "Interactive and immersive work is my investigation on how these situations or platforms can function as meeting points for humans to meet in an open, allowing and including the way in the here and now, human to human, vulnerably." (2020).
WHAT ARE YOU WORKING ON RIGHT AT THIS MOMENT?
I am working on an immersive performance in which we move closer to the function and relations we have to debt. Both as individuals, society and site. The work visits buildings with historical relations to debt and/or the Swedish colonial past. Here, the visitor gets the opportunity for one night to use the power of debt and representation to take part in a seance in this specific building.
I am also working as dramaturg for other artists, something I enjoy a lot!
Alongside, I am looking to find ways of reading and somatic practice. Our bodies hold knowledge in ways we are yet to find out and I am curious as to how we can digest text if we move with it a practice that is new and that I wish to develop with other artists.
HOW WOULD YOU LIKE TO FURTHER DEVELOP DURING YOUR RESIDENCY AT SITE?
I am looking to further develop my practice as a performance/dance maker and a practice in dramaturgy. I am at a point in my work where I am creating my own work on a larger scale for the first time which in turn is making me more invested in dramaturgy. In terms of dramaturgy, I believe that dance and performance ask for other dramaturgical developments and I am curious to find a language/method for what ways dance and performance can benefit from bringing someone in for his role at a different stage of the process.
Alongside, I am creating a reading and moving practice for artists. How can we digest text with moving practice as we keep information in our bodies? With the use of somatic practice and text, I want to investigate how the body understands and translates what we read.
WHAT DOES THE SITE RESIDENCY ENABLE YOU TO DO?
To find new connections within the artistic field in Stockholm and beyond. To spend time in an office/studio without feeling stressed that the space is temporary and can therefore enjoy being there because it will be available the next day too. Developing non-stressed relations to my administrative work and finding methods for how I can work more sustainable both in terms of administration as well as artistically.