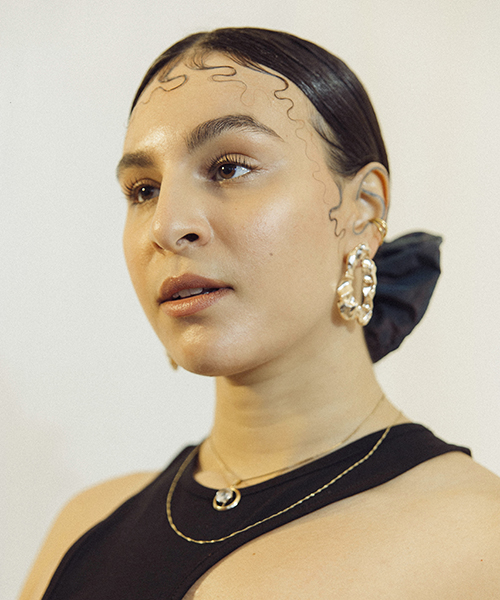 Mona Namér is a Moroccan-Swedish dancer, choreographer, and creative director from Gothenburg, Sweden – based in Stockholm. Since the age of eight, Mona has built a strong foundation in Hip Hop and House dance, while gleaning inspiration, education, and a physical vocabulary from around the world. She spent a year and a half honing her practice at Broadway Dance Center in New York, followed by years of traveling between Paris, Johannesburg, London, and New York. Mona merges her experience and breadth of knowledge and uses them to create a repertoire of new expressive narratives in movement and visual art. She is active in different fields such as dance and film productions, theatre, directing, teaching, commercial work, photography, and various projects. Her work explores identity, human behavior, surrealism, rituals, and a sense of floating inside and outside of your own body. Mona's innate curiosity and desire to experiment with different forms of creative expression have led to collaboration and work with lauded artists, companies, and celebrated festivals such as Little Dragon, Branko, IKEA, VOLVO, Afropunk Festival, and Gothenburg Opera.
Kontakta Mona
www.monanamer.com
WHAT DOES THE SITE RESIDENCY ENABLE YOU TO DO?
Residenset på SITE ger mig möjlighet att på en fast plats kunna arbeta lyhört, vara mottaglig för inspiration och direkt kunna verkställa de idéer som jag visualiserar dagligen. Jag ser fram emot att kunna samarbeta, diskutera tankar och bolla med andra kreatörer och konstnärer i huset.
WHAT ARE YOU WORKING ON RIGHT AT THIS MOMENT?
I dagsläget arbetar jag främst med att utveckla min scenkonstproduktion Birth Liquid som är en förlängning av min kortfilm A Bath In My Mother's Womb.
I föreställningen utforskar jag stadierna födelse, kaos och stillhet och dess cykel. Idén är inspirerad av den biologiska metamorfos förvandling som sker i puppan från larv till fjäril, en metafor av hur essentiell harmoni är, för att både natur och människa ska ha möjlighet att hela och återfödas. 

HOW WOULD YOU LIKE TO FURTHER DEVELOP DURING YOUR RESIDENCY AT SITE?
Jag vill fortsätta utvecklas som dansare och koreograf genom olika praktiker och sessions där jag arbetar fokuserat. Platsen ger mig möjlighet att samarbeta med mina vänner och konstnärer inom andra element och utforska idéer kring video, ljud och installation.