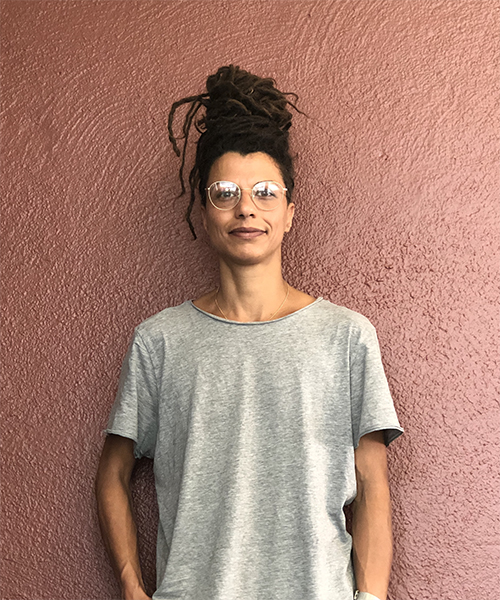 Nasreen Aljanabi Larsson is a choreographer, dancer, and performer, based in Stockholm since 2006 and recently finished her master's studies at Stockholm University of the Art, she has freelanced in variegated performing art projects between circus, clown theater and film.
Nasreen teaches dance and yoga in Arabic, English, and Swedish. Her interest in artistic research enabled her to develop the somatic practice Clitoriography title of her ongoing artistic research, exploring the genitals' energy, specifically the clitoris in creating movement and improvising by its impulse.
In the research, Nasreen wants to illuminate the ignored although crucial part physically, pedagogically, and socially of the human body.
Nasreen was born and grew up in Damascus where they received 4 years of dance education at the High institute of performing arts.
WHAT DOES THE SITE RESIDENCY ENABLE YOU TO DO?
Continue developing my research and practice, especially as a newly examined master of choreography. It feels great to have the opportunity to share the space with new colleagues and peers, create a solid base to process my project and my research objects, and open up a net of support and promotion.
WHAT I AM WORKING ON RIGHT AT THIS MOMENT
Creating Därnere, an educational performance, edutainment, for teenagers with the aim to broaden their knowledge about clitoris and their whole sexuality. a performance that is based on dance and clown techniques to mediate knowledge through humor and art, the performance research is based on interviews with children from 13 years of age and also experts, pedagogs, and sexologists. For this project, I got grant support from Ottarfonden RFSU which encouraged me to apply for further support to produce my project.
I am also developing a workshop about my practice, and I would like to keep exploring methods of making clitoriography practice inclusive and possible for everyone, not only professional dancers.
HOW I WOULD LIKE TO FURTHER DEVELOP DURING MY RESIDENCY AT SITE?
Connecting networking, Working space, studio, meeting peers and colleagues, public presentation writing, and documenting, All these will develop my process to production and reach out through the SITE platform to more collaborations.