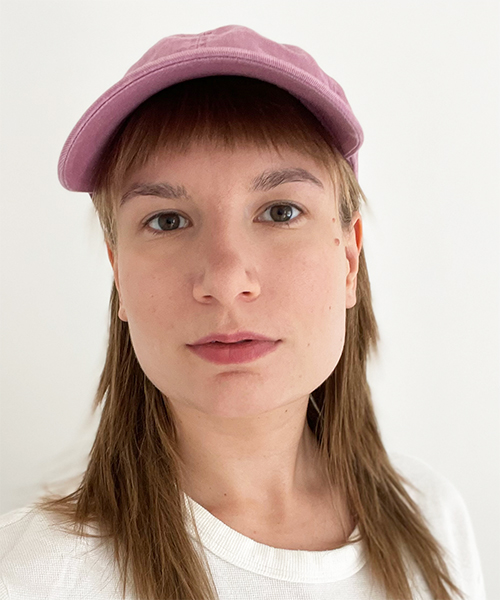 Nea Landin is an artist working within the fields of contemporary dance, performance art, installation art, theatre, and technology. She grew up in Bollnäs, Hälsingland, and is currently based in Stockholm. Nea got her education from Balettakademien Stockholm as well as through courses in choreography, philosophy and Klein technique at Stockholm Uni Arts, and computer programming at Konstfack.
"My artistic research is centered around the exploration of fantasy and meaning making in the digital and digitized age. I am interested in how somatic and semiotic experiences are and can be altered through technological processes. My work combines dance, choreography, and visual arts, and computer programming is an integrated part of it."
As a dancer, Nea has performed in Sweden, Hungary, Poland, Germany, Tunisia, Denmark and Finland, and collaborated with artists such as Adèle Essle Zeiss, Robin Jonsson, Uncover Choreography, Claire Parsons, Noah Hellwig, Iraqi Bodies, Christina Tingskog, Scott Cazan, Toby Kassell & Ingeborg Zackariassen, Valencia James, Ron Howell & Graham Vick.
WHAT DOES THE SITE RESIDENCY ENABLE YOU TO DO?
This residency provides me with a stable workplace, a support system, access to space for physical research, which is fundamental, and the possibility to connect with other artists. The opportunity to follow each other's work up close for a year feels special and
rare, and I believe it will strengthen my individual practice.
WHAT ARE YOU WORKING ON RIGHT AT THIS MOMENT?
I am currently working on OTHER, a machine-mediated experience for two randomly connected participants, which explores physical and sensorial connectivity in relation to distance and anonymity. It ponders on the mysterious act of [creating contact] in a simultaneously more connected and increasingly alienating world. The piece has its on-location premiere in September, at DansPlats Skog, where participants will be guided through a choreographed virtual meeting via computers located in separate rooms. It will have an online premiere later this fall, making it possible for anyone to join in from home.
HOW WOULD YOU LIKE TO FURTHER DEVELOP DURING YOUR RESIDENCY AT SITE?
I would like to advance my production skills, such as application writing, budgeting, establishing contact with venues, and marketing. Artistically, I want to spend time further developing three branches of research that are in their early stages.
The first branch targets the web and explores the body's possibilities for transcending the meat space and extending into cyberspace. OTHER is the first of these projects. The next one up is a sort of duet with a computer, where I explore relationships between the digital world and the human ego.
The second branch is my exploration of cyborg movement practices. From transhumanist ideas of technology as an extension of the body to cyberpunk dreams of AI partnership, the work revolves around dialogues between technological inputs and the dancers' imagination.
The third branch is a continuation of my project glitch which puts glitch art in relation to the body, performativity, and the self.