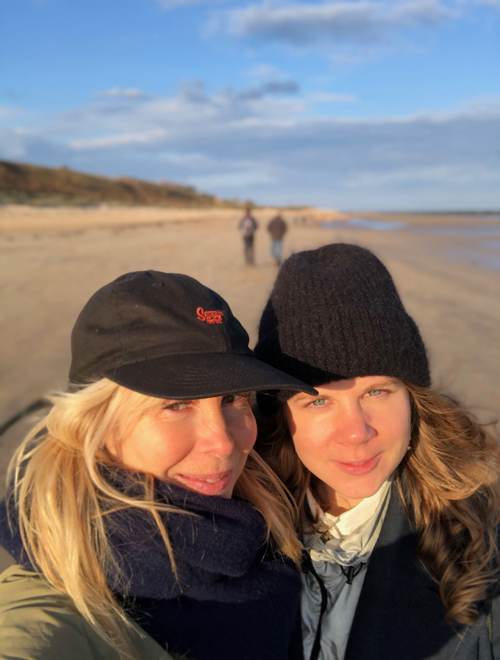 Uncover Choreography (U.C) consists of the progressive dance duo Sanna Söderholm and Elinor Tollerz Bratteby. Common interest is to constantly surprise ourselves, each other and others with exploratory work on the edge of the choreography field. Other interests at the moment are dancing, subjective experience, attentiveness, critical thinking, humanity, SNL, freedom and what people call flum. We have found each other in a forever gratifying complexity.
During 2020/2021 we plan to work on three main levels: production level, artistic level and mentorship. We will pursue several of our projects and collaborations parallelly.
Projects:
(2020/2021) A little bit wild n a little bit wet/or just Ralph – dance performance
Dancers: Sanna Söderholm, Elinor Tollerz Bratteby
At: not yet premiered
Support:Konstnärsnämnden, Fylkingen, Skeppsholmsstudion, Hallen och Site
(2020) Happy Fishing – exhibition with a choreographed guided tour to live music
With: zoviet*france Ben Ponton and Mark Warren (music)
At: Skogen Göteborg, Baltic39 Newcastle
Support: Konstnärsnämnden
(2019) QUÖÖÖR – mingling voice choreography
With: Scott Cazan (sound artist)
Performers: pavleheidler, Sandra Lolax, Emelie Johansson, Elinor Tollerz Bratteby, Sanna Söderholm
At: Bonniers Konsthall, Weld, Slakthuskyrkan, Konstnärsnämnden, Fylkingen
Support: Konstnärsnämnden, CCAP, c.off, Step In Dansstudio, Weld och Bonniers Konsthall
(2018) Flinking – choreographic installation in a textile wonderland
With: Karin Furness (textile artist), Hans Berg (music), Jonatan Winbo (light), Thomas Zamolo (light), Mira Wickman (photo), dancers: Sanna Söderholm, Elinor Tollerz Bratteby
At: Naturhistoriska Riksmuseet, Skarpnäcks Kulturhus, CCAP, Site, Blå Huset Tensta, Bonniers Konsthall, Västerbottens Museum, Folkets Hus i Vilhelmina, Haninge Kulturhus
Support: Stockholm Stad, Region Stockholm, Kulturrådet, CCAP, Reggio Emilia Institutet och Step in Dansstudio
(2017) Unmarked Evolution – dance performance
With: Vlad Brateanu (graphics, photo, objects) and Thomas Zamolo (light). Dancer: Sanna Söderholm
At: Weld, Konstnärsnämnden, CCAP
Support: Stockholm Stad, Region Stockholm, Konstnärsnämnden, Kulturrådet
Contact: sanna.soderholm@gmail.com and elinor.tb@gmail.com
---
WHAT DOES THE SITE RESIDENCY ENABLE YOU TO DO?
Generally, the residency means focused work with our artistic practice. SITE provides a platform where art and artists are a priority. Uncover Choreography appreciates being part of a context where different kinds of exchange are accessible. Frames for production support, conversations, networking, new knowledge and perspectives. 
WHAT ARE YOU WORKING ON RIGHT AT THIS MOMENT?
Our focus right now is dancing with joy!
During the summer 2020 we started our current work which is a dance performance with the working title A little bit wild and a little bit wet / or just Ralph. The piece is based on a simple condition: dance in an empty space. The concept deals with dance in relation to the notion wild. We look inward for something untamed beyond the actual material. The approach to the dancing and the numerous styles uncovers a new emancipated, lighthearted and risky dance.
Two adults various sprawling hens submit to unison dance, agreements and attitudes and throw themselves into each other's arms. Everything is important and nothing matters. The experience of joy is at stake. And the stamina. Scales negotiations cow turns falls and stumbles in craftshumanship care.
She listened to the name Ralph. Her energies were tamed. She had a longing to be wild and free again. Her posture changed as she looked toward the horizon. It was as if she was getting taller, bigger. She was a God damn cheetah.
HOW WOULD YOU LIKE TO FURTHER DEVELOP DURING YOUR RESIDENCY AT SITE?
Artistically Uncover Choreography inevitably follows and trusts the course of the work. We focus on studio work, collaborations, public presentations, text work and documentation.
Productionwise we wish to continuously establish contact zones with audiences and venues internationally. For this to happen we plan to articulate procedures of networking, marketing and selling our work. We also intend to update and develop new strategies for the funding process.
Our collaboration has partly worked as a mentorship. During the residency we plan to articulate our roles, methods and interplay. We will analyze which interests, needs and desires are relevant to take further in a more formulated and aware mentorship practice.