Resisting Extinction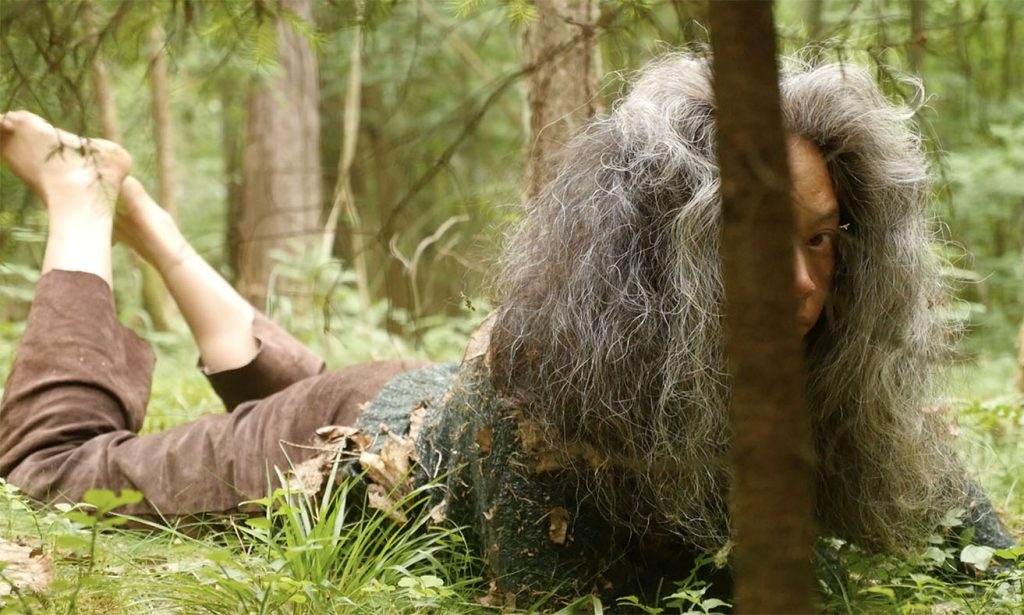 Resisting Extinction
INSTÄLLT – På grund av sjukdomsfall behöver BodyCartography Project tyvärr ställa in deras medverkan vid årets SITE/Specific Festival. Vi planerar för att presentera deras verk Resisting Extinction under hösten 2022 och återkommer med datum. 
CANCELLED – Due to illness, BodyCartography Project sadly needs to cancel their participation in this year's SITE/Specific Festival. We plan to present their work Resisting Extinction in the autumn of 2022 and will return with dates.
Det är kostnadsfritt, men förbokning krävs.
Plats: Talludden, 128 64, Sköndal. Exakt plats meddelas per mail.
Närmaste busshållplats: Stora Sköndal. Buss 143, 181 & 188.
Resisting Extinction rekommenderas för publik över 12 år.
Resisting Extinction erbjuder metoder för att leva och dö tillsammans på en skadad jord. Resisting Extinction bjuder in oss till att inte bara se framåt utan att se oss omkring och lägga märke till vad vi förlorar. Denna ekologiska kris är en identitetskris. Allt skiftar. Att erkänna sorg som ett legitimt svar på denna massutrotning av flera arter är ett viktigt steg för att utöka vår förståelse för vad det innebär att vara vid liv i detta snabbt föränderliga ögonblick. Vi kan inte lita på modeller som vidmakthåller denna kris. Vi behöver öva på förkroppslig kunskap för att reparera vårt relationsfält. Vi måste finslipa vår kompetens. att improvisera, att leka, att experimentera, att vara mottaglig, att vara i det okända och lita på att vi har resurserna i våra kroppar för att förhandla, överleva och frodas.
Resisting Extinction består av tre olika upplevelser:
Weather Walk – En one-to-one-föreställningsresa där vi förvandlar vårt småprat om vädret till större samtal om klimatkrisen.
The Missing – En osynlig föreställning som flimrar i periferin av vårt medvetande där en kritiskt hotad multi-art-väsen hemsöker landskapet.
Dying and Decomposing Practice – En deltagarbaserad upplevelse kring frågan: Ska vi sörja vår egen potentiella utrotning?
*****
The events are free of charge, but need to be booked in advance.
Location: Talludden, 128 64, Sköndal
Nearest bus stop: Stora Sköndal. Bus 143, 181 & 188. Exact location to be confirmed by email.
Resisting Extinction is suggested for audiences over 12 years.
Resisting Extinction offers practices for living and dying together on a damaged earth. Resisting Extinction invites us to not only look forward but to look around and notice what we are losing. This ecological crisis is an identity crisis. Everything is shifting. Recognizing grief as a legitimate response to this multi-species mass extinction is a vital step to expanding our understanding of what it means to be alive in this swiftly transforming moment. We can't rely on models that perpetuate this crisis. We need to practice embodied knowing to repair our relational field. We must hone our skills. to improvise, to play, to experiment, to be receptive, to be in the unknown and trust we have the resources in our bodies to negotiate, survive, and thrive.
Resisting Extinction unfolds as a series of three experiences.
Weather Walk – a one-on-one performance journey. We will transform our small talk about the weather into big talk about the ecological emergency.
The Missing – is an invisible performance that flickers on the periphery of our consciousness where a critically endangered multi-species being haunts the landscape.
Participatory Dying and decomposing practises – Should we grieve our own potential extinction?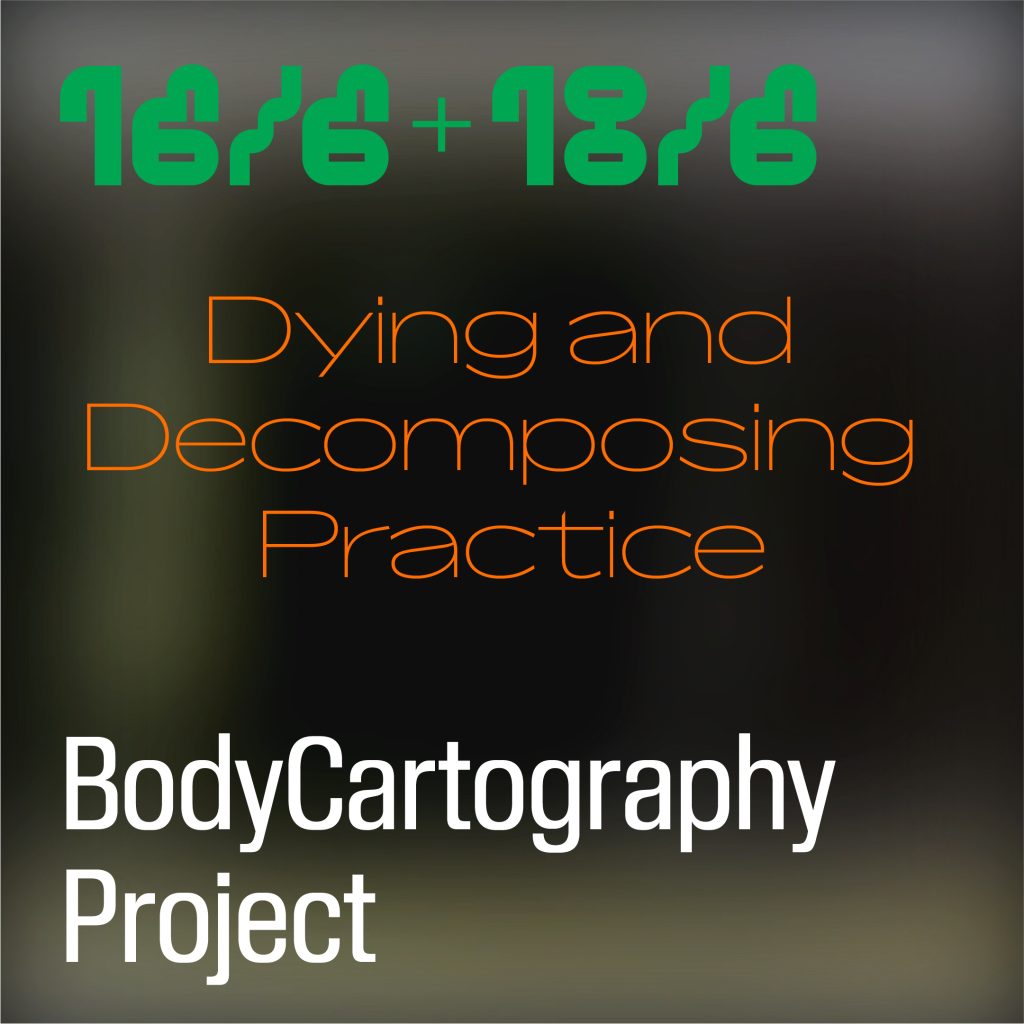 Dying and Decomposing Practice
Dying and Decomposing Practice – En deltagande upplevelse kring frågan: Ska vi sörja vår egen potentiella utrotning?
Plats: Gläntan, SITE, Mårbackagatan 11
*****
Dying and Decomposing Practises. Should we grieve our own potential extinction?
Location: Gläntan, SITE, Mårbackagatan 11
Läs mer om BodyCartography Project här.
---
Concept: Olive Bieringa
Directors: Olive Bieringa & Otto Ramstad
Performers at SITE/Specific Festival: Olive Bieringa, Otto Ramstad Uma Ramstad, Nina Wollny, Sigrid Marie Kittelsaa Vesaas, Maria Lothe, Oliver Connew & Daniel Jeremiah Persson
Co-creating performers: Maria Lothe, Sigrid Marie Kittelsaa Vesaas, Ornilia Ubisse, Hanna Filomen Mjåvatn, Kristina Gjems, Otto Ramstad, Olive Bieringa, Nina Wollny, Uma Ramstad
Costume design: Kristine Gjems
Funders and partners: Oslo Municipality, Kulturrådet, KORO – Public Art Norway, the Nordic residency at SITE in Farsta, Sweden, Klimahuset, Natural History Museum, University of Oslo, Norskfolkemuseum, Bygdø Kongsgard, Oslo Kulturnatt, DansIT, University of the Arts Helsinki.
Olive Bieringa and Otto Ramstad collaborate as the BodyCartography Project for nearly 25 years. Their work has been performed at Oslo International Theater Festival, Kulturataten's SAMMEN-om-GATA, San Francisco Museum of Modern Art, Lyon Opera Ballet, Dance Theatre Workshop, Performance Space 122 and American Realness, NYC, Walker Art Center, Minneapolis, TBA/Portland Institute of Contemporary Arts, Anti-Festival, Finland, Cinedans, Amsterdam and many other contexts internationally. Their work also lives in the permanent collection at Te Papa Tongarewa National Museum of New Zealand. They are fellowship recipients from Foundation for the Arts, McKnight Foundation, Jerome Foundation, and Bush Foundation. Learn more about BodyCartography at www.bodycartography.org
Sigrid Marie Kittelsaa Vesaas is a creative and performing dance artist educated from the School of Contemporary Dance. Works with freelance in collaboration with other artists. Collaboration with other artists such as Goro Tronsmo, Caroline W. Nesse, Lundahl & Seitl, Wee Scavetta / Kipperberg, Marie Nikazm Bakken / Fredrik Floen, and Maja Roel. Shown own work among others during Ravnedans / Kristiansand with Heidi Jessen, CODAfringe / Oslo art gallery with Marte Reithaug and Ann-Christin Kongsness, Henie-Onstad art center with Ny Høvik Ballet, and shows the dance film STRIM at home and abroad, collaboration with film artist. Alexander Johan Andreassen. STRIM won the Gold Chair in Grimstad in 2017. Current collaboration with Signe-Hilde Jørgensen on dance with Parkinson's, and dances in a preliminary project with Tone Martine Kittelsen.
Maria Lothe is a dance artist, working as a mover, maker, and producer in Norway and England. She has a two-year degree from Skolen for samtidsdans (The School for New Dance) in Oslo and a BA (Hons) in Contemporary Dance from Trinity Laban Conservatoire of Music and Dance. She is also a certified yoga teacher in Ashtanga Yoga and Yin Yoga. As a performer, Maria has been working in dance, theatre, and performance art, with companies/artists such as Martin Creed, What's Coming out of the Box, BitterSuite Company, Livia Rita, and the Bicycle Ballet Company, and performed in venues such as The Twist Museum, The Royal Opera House London, Rich Mix, Roundhouse, Royal Academy of the Arts, Whitechapel Gallery and has toured across the UK. She has also been a member of Backspace Collective. Both as a mover and a maker, Maria is amongst others interested in interdisciplinary collaborations, site-specific work, and sensory/interactive work. Her work often involves questions about climate change and our relationship to nature. Her work has been shown in venues such as The Place, Chisenhale Dance Space, Turner Contemporary, Ugly Duck, Røros Museet, Galleri TM51, Ælvespeilet, Norsk Skogmuseum, and Musea i Nord-Østerdalen. Maria has recently been involved with Extinction Rebellion, where she facilitates movement classes for the performance group "Red Rebels", as well as being an internal coordinator for the Artivism group. She is also a board member of SIB Dance Lab, PRAXIS Oslo, and a former producer for DansINN. www.marialothe.com
Nina Wollny studied contemporary dance at the Rotterdam Dance Academy, Codarts, in the Netherlands. After her graduation in 2002 she joined the company anoukvandijkdc and has worked there as a dancer, rehearsal director, and artistic assistant for more than 10 years. She performed in most of Anouk van Dijk's works during that time, including the collaborations with director and playwright Falk Richter and Anouk van Dijk's first work as director of Chunky Move in Melbourne, Australia. Since 2012, Wollny is performing and collaborating regularly with German choreographer Jenny Beyer at Kampnagel in Hamburg, Germany. And since 2016 she is working with Mia Habib Productions and has been featured in the works …a song to, All-a physical poem of protest, and How to die-Inopiné.
Uma Ramstad attends Rudolf Steinerskolen in Oslo, studies aikido, and performs with Tesktlab and Rom for Dans Ung.
Oliver Connew is a choreographer, dancer, occasional writer, and a sound enthusiast among other things. He is a classical ballet graduate of the New Zealand School of Dance and has a contemporary dance degree from Unitec Auckland. Since 2013 Oliver has worked as a dancer and performer with Peter Pleyer, Body Cartography, Wilhelm Groener, Joshua Rutter, and Julian Weber among others. He is a member of the Berlin-based dance company "Cranky Bodies a/company". In 2021 he completed the two-year Master Exerce programme at the Centre Chorégraphique National Montpellier, France. Oliver's own recent choreographic project, Being(s)(a)part, is a multi-entity collaboration in which dance, sound, language, and voice form techniques that work to unsettle culturally-conditioned separations between earthly creatures and phenomena of all kinds.
Daniel Jeremiah Persson is a Swedish-Korean dancer and choreographer based in Malmö, Sweden since 2018, holding a BA (Honors) Degree from London Contemporary Dance School (2011-2014). Daniel has performed in numerous works, touring nationally and internationally, spanning from site-specific performances (Tate Modern, British Museum, Statens Museum fur Kunst, Kivik Art Center, etc.) to BlackBox dance-theatre pieces (MDT, Palladium, Robin Howard Dance Theatre, etc.). He has worked for choreographers/companies such as: MYKA, Bobbi Lo Produktion, ENT, Khamlane Halsackda & Maria Stamenkovic Herranz, Joan Jonas, AdeY, Charlotte Østergaard, KASPERSOPHIE (& Martin Forsberg), Gracefool Collective and more. As a choreographer, Daniel led the cross-disciplinary company Humanah Productions between 2014-2017 in which he created works that toured the UK. Since 2018, he has choreographed work in collaboration with other artists which has been presented in Greece, South Korea, Luxemburg, and Sweden. In his work, he explores themes on gender- and intercultural identity with a focus on all moving in grey zones/in-betweenness. The pieces are often crafted through the use of costume-, set- and lighting design, and text in symbiosis with dance/movement.